ABOUT US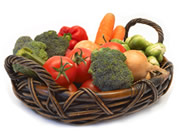 PAST:
S.C. Agro Codlea S.R.L was founded at the beginning of 2004, following the division of the departments within S.C. Codlea Arctic S.A.
Our activity actually started at the end of 2001, with the acquisition of 14 hectares of land from the former state-owned greenhouses in the neighbourhood of Grãdiste, Arad.
We had our first crop in 2002, which amounted to 450 tons. That enabled us to reach a turnover of €150,000. Last year, our total production amounted to 1,400 tons, accounting for a turnover of €900,000.
PRESENT:
We currently have an annual turnover of €1,200,000, with a production of 1,800 tons/year. We cover 4% of the national market and around 30% of the local market.
Our company is part of the CODLEA group. The companies in this group carry out various activities, such as: trade, services, real estate project development, financial and management consultancy, etc.


FUTURE:
We plan to enlarge our market share by increasing our production and thus our turnover based on our large investments that we realised in 2007.

LOCATION:
Our headquarters and greenhouses are located in the northern part of the city of Arad, close to the Metro and Praktiker hypermarkets, about 50 km from the Hungarian Border.